The worst thing about cooking is deciding what to make. Brigitte Gemme, founder and Chief Meal Planner at Vegan Family Kitchen, guides you to plan and prep delicious and nutritious meals for yourself and your loved ones, using vegan whole foods plant-based ingredients... and lots of love.
Episodes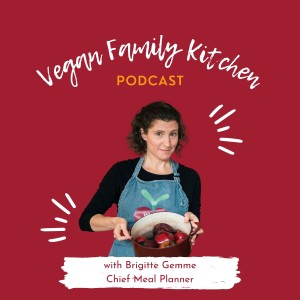 Thursday Mar 30, 2023
Thursday Mar 30, 2023
The food we eat isn't neutral: every bite has the potential to nourish and heal us, or harm us. So says Leah Cooper, my friend Down Under who teaches yoga and whole food cooking in the macrobiotic tradition. 
In our conversation, we talk about:
Why the connection between yoga and food isn't always made in conventional yoga classes
What therapeutic yoga can be a better choice for those of us whose bodies aren't in perfect shape
How we can eat according to the seasons
And how to make veggie-rich miso soup for breakfast! 
My guest Leah Cooper is a yoga teacher, whole food cook, and health and wellbeing enthusiast. She started her business, The Centre of Ki (pronounced 'key') in 2013 and has been teaching weekly yoga classes, hosting yoga retreats, and leading seasonal cooking workshops in the Barossa Valley of South Australia for 10 years. She also has a YouTube channel that enables her to share her passions for health and wellbeing to a wider audience, and in 2021 she began her podcast - The Wellbeing Room.