The worst thing about cooking is deciding what to make. Brigitte Gemme, founder and Chief Meal Planner at Vegan Family Kitchen, guides you to plan and prep delicious and nutritious meals for yourself and your loved ones, using vegan whole foods plant-based ingredients... and lots of love.
Episodes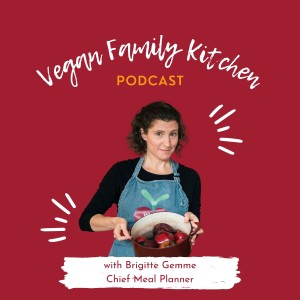 Wednesday Apr 26, 2023
Wednesday Apr 26, 2023
Most people believe that they'd cook better if they had a bigger kitchen... but is that so? Kathy Davis, who runs the Eat More Plants Academy and published three cookbooks, lives in a RV and her story challenges conventional views. It's all about intention. 
Kathy Davis is the CEO of VegInspired and a plant-based lifestyle and mindset coach for female entrepreneurs. I was surprised to hear that, eight years ago, she came to plant-based eating kicking and screaming after her husband read an article about the health benefits. Later, a farm visit led her to become vegan. She enjoyed exploring all the amazing plant-based food options that were becoming available at restaurants, documenting it all on her YouTube channel. Unfortunately, her health suffered. 
Almost three years ago, she made the decision to shift her daily habits to follow a whole food plant-based lifestyle. She experienced amazing results: not only she lost weight but, more importantly, she found herself with renewed energy and a newfound sense of joy. She and her husband John have taken their life on the road and they slowly make their way across the United States with the goal of visiting all national parks, making the most of her increased fitness and stamina. 
You can connect with Kathy on Instagram and get a free whole food plant-based meal plan on her website, VegInspired.
--
You too can enjoy healthy stress-free vegan dinners next week. Download the 5-day Planned & Plant-based guide: https://veganfamilykitchen.com/planned-plant-based/
A zen-inspired guide to better meals by podcast host Brigitte Gemme: Flow in the Kitchen: Practices for Healthy Stress-Free Vegan Cooking.