The worst thing about cooking is deciding what to make. Brigitte Gemme, founder and Chief Meal Planner at Vegan Family Kitchen, guides you to plan and prep delicious and nutritious meals for yourself and your loved ones, using vegan whole foods plant-based ingredients... and lots of love.
Episodes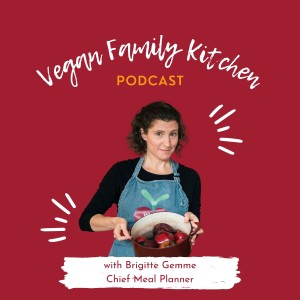 Wednesday Feb 15, 2023
Wednesday Feb 15, 2023
"When we uncover who we are, and we are willing to show up as that person, a lot of barriers just fall away." 
Those are the wise and inspiring words of my guest, Kimberly Winters. Kimberly is the host of the Did You Bring the Hummus? podcast, where she gently guides those who wish to adopt a vegan lifestyle through their transition. In addition to coaching, she supports others - vegan or not - as an energy guide and reiki practitioner. 
I wanted to bring Kimberly on the show to talk about the spiritual energy of food. What difference does it make, in our bodies, hearts, and souls, to eat plants as opposed to animals? 
In this episode, I also bring Kimberly to share her journey with us, including early signs that she should probably go vegan (though she ignored them) and a long stint as a vegetarian who didn't like vegetables or know how to cook. 
You can connect with Kimberly Winters for guidance, or to join her healing circles, on her podcast's page: Did You Bring the Hummus? (Did you?!) http://didyoubringthehummus.com/ 
--
Do you need a bit of help deciding what's for dinner now that you want to eat more plants (and fewer animals)? Let me help you with a 5-night healthy vegan dinner plan. Learn more at http://veganfamilykitchen.com/
Overwhelmed, frustrated, or resentful in the kitchen? It's time for a mindset shift. Check out Brigitte's book Flow in the Kitchen: Practices for Healthy Stress-Free Vegan Cooking.