The worst thing about cooking is deciding what to make. Brigitte Gemme, founder and Chief Meal Planner at Vegan Family Kitchen, guides you to plan and prep delicious and nutritious meals for yourself and your loved ones, using vegan whole foods plant-based ingredients... and lots of love.
Episodes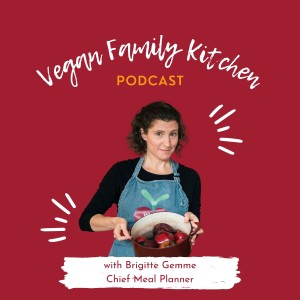 Wednesday Jun 21, 2023
Wednesday Jun 21, 2023
Veganic gardening is an approach to growing plants organically without any animal inputs. In other words: plant-based gardening!
If you already have a garden, listen in to learn from Meg Kelly how to transition to a kinder and safer approach. If you don't already grow your own veggies, be prepared to get inspired by her hot tips to get started!
Meg Kelly has been gardening veganically for 15 years in backyards, on balconies, and in the countryside. She co-founded the Veganic Agriculture Network in 2008 to increase awareness about veganic gardening and farming in North America. She now teaches the Learn Veganic online gardening course to help people around the world grow their own thriving gardens that are animal-friendly and sustainable.
You can learn more about the online veganic gardening course here: https://learnveganic.com/ (use coupon code VEGANFAMILYKITCHEN for $20 off - not an affiliate! just happy to spread the veganic gardening love)
Connect with Meg on Instagram: https://www.instagram.com/learnveganic/
#vegan #plantbased #gardening #veganic #veganicgardening #veganicagriculture #agriculture
--
Need help with meal planning and batch cooking? Try my free Planned & Plant-Based 5-day dinner plan. Download it here: https://veganfamilykitchen.com/