The worst thing about cooking is deciding what to make. Brigitte Gemme, founder and Chief Meal Planner at Vegan Family Kitchen, guides you to plan and prep delicious and nutritious meals for yourself and your loved ones, using vegan whole foods plant-based ingredients... and lots of love.
Episodes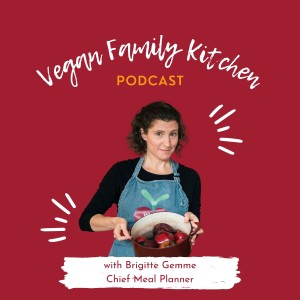 Tuesday Jun 06, 2023
Tuesday Jun 06, 2023
Get inspired to cook more healthy vegan Italian food with Antonia Ricciardi! Antonia trained in physics and worked in the publishing industry, but her roots in the family restaurant in Southern Italy stayed strong. In our podcast conversation, you'll learn more about: 
Antonia's inspiring shift from the sciences to the culinary world, ingeniously weaving Italian flavors into her vegan dishes.
Her favorite substitute for meat in vegan Bolognese sauce - and how the people of Bologna actually make it!
The powerful wellness benefits of raw food, with a special spotlight on Antonia's delectable raw cakes from her Cambridge, UK shop.
Antonia's practical guidance for anyone embarking on a plant-based diet or a career in vegan cuisine.
And her clients' favorite dishes! 
Links:
Tune in with Vegan Family Kitchen Podcast host, Brigitte Gemme, and Antonia Ricciardi to explore the fascinating world of Italian plant-based cooking, where tradition meets healthy innovation. Savor this episode and ignite your culinary passion!
--
Need a meal plan? Visit Vegan Family Kitchen and share your email at the top of the page to receive my free 5-day healthy vegan dinner plan featuring all-time client favorites: https://veganfamilykitchen.com/