The worst thing about cooking is deciding what to make. Brigitte Gemme, founder and Chief Meal Planner at Vegan Family Kitchen, guides you to plan and prep delicious and nutritious meals for yourself and your loved ones, using vegan whole foods plant-based ingredients... and lots of love.
Episodes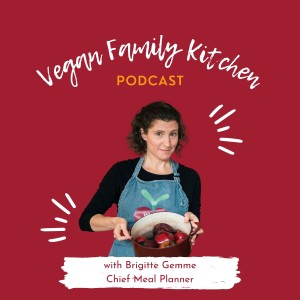 Tuesday Jun 13, 2023
Tuesday Jun 13, 2023
Why not try something different, pay attention to the results, and take it from there? This Vegan Family Kitchen Podcast episode's guest, Helen C. Giles, is a colleague, cooking friend, and meal plan subscriber whose stories will encourage you to embrace experimentation and give thanks for the life and body you have now.
In this conversation, we explore:
The beginnings of Helen's journey into vegetarianism, which started in a high school Animal Science class, and how she took her parents along for the ride;
Her self-guided path to healing from a mental health crisis when conventional medicine's failed to help;
How listening to her body led her to quit dairy and experiment with laying off gluten, and how she makes the meal plans work for her;
Her non-conventional career path following a graduate degree in Public Health;
The joy of embracing our freedom, beauty, and worth today.
Stay inspired by connecting with Helen:
Her lovely newsletter is available for subscription on her website: Helen C. Giles
-- 
Meal planning and weekend batch cooking make healthy plant-based living stress-free and so much more interesting! Download my free Planned & Plant-based guide for 5 recipes, including a shopping list and meal prep instructions. https://veganfamilykitchen.com/